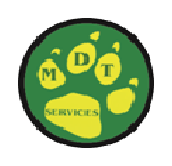 WE TEACH YOU TO TEACH YOUR DOG
TERMS OF USE....
IMPORTANT
This site is owned and maintained by or on behalf of MDT Services Ltd. The use of this site is subject to these Terms of Use and any other guidelines or rules applicable to the site and services that may be posted from time to time, which you should read carefully. By using this site you agree to be legally bound by these Terms of Use. If you do not accept these Terms of Use, please do not use this site.
Use of this Site
The information, services and products on this site are intended for use by UK residents only (except where specifically stated on any particular page).
Our Liability
We have taken all reasonable steps to ensure the accuracy and completeness of the information on this site, but give no warranty and make no representation regarding its accuracy and completeness. Consequently, we accept no liability for any loss or damage (whether direct, indirect, special, consequential or otherwise) arising out of errors or omissions contained in this site. We give no warranty that the site will be available on an uninterrupted basis and accept no liability in respect of loss or damage arising out of its unavailability. We accept no liability in respect of loss or damage arising out of changes made to the content of this site by unauthorised third parties. Access to and use of this site is at your own risk and we do not warrant that the use of this site or any materials downloaded from it will not cause damage to any property, including (but not limited to) loss of data or computer virus infection. This site contains hyperlinks to other web sites, which are hosted, operated and maintained by third parties. We have no control over the content or security of any such web sites. You hyperlink to such web sites at your own risk, and we make no representations and will not incur any liability in respect of the content of such web site. Our inclusion of hyperlinks to such web sites does not imply any endorsement of views, statements or information contained in such web sites. We cannot be liable for any loss or damage, which may arise from the use of such third party web sites. The contents of this site are not intended to provide any definitive training or behavioural advice. Training tips are offered as a free service. Professional advice should be sought where you are unclear how to apply training tips or if you fear danger to your dog/s, a third parties dog, any person or child or property of any description. Nothing in these Terms of Use shall exclude or limit our duties and liabilities under any legislation or any codes of practice, which we are bound to comply with or any liability for fraudulent misrepresentation.
Your Obligations
You represent, warrant and undertake that you will not do anything or cause or permit anything to be done that may infringe, damage or endanger any intellectual property rights or damage the reputation of MDT Services Ltd. or any of its associates or any third party or do anything that is otherwise unlawful.
Indemnity
You shall indemnify and keep MDT Services Ltd. indemnified against all actions, claims, losses, costs (including all legal costs actually incurred or
otherwise), damages and expenses that are suffered or incurred by MDT Services Ltd. whether or not reasonable or otherwise foreseeable or avoidable which arise directly or indirectly from any breach or alleged breach by you of any of these Terms of Use.
Copyright
The contents of this site are copyright of MDT Services Ltd. except where stated otherwise. All rights, save as expressly granted, are reserved. Reproduction in any form of any part of the contents of this site without our prior consent is prohibited unless for your personal use only.
Privacy of Your Data
Internet e-mail messages sent via the Internet are not guaranteed to be totally secure because it is possible that they can be intercepted, lost or altered. We therefore cannot accept liability for any loss or damage suffered in connection with any message sent between you and us via the Internet.
Privacy & Cookies
We are committed to preserving the privacy of your personal data. Cookies are harmless text files that web servers sometimes store on your computer's hard drive when you visit a site. They allow web servers to recognise you when you revisit a site. This site uses a session cookie that contains no personally identifiable information.
Sever ability
The Terms of Use of this site shall be deemed sever able. In the event that any provision is determined to be unenforceable or invalid, such provision shall nonetheless be enforced to the fullest extent permitted by applicable law and such determination shall not affect the validity and enforceability of any other remaining provisions.
Governing Law
The Terms of Use of this site are governed by the laws of England and Wales. Any dispute regarding this site shall be subject to the exclusive jurisdiction of the English courts.
Changes to the Site
We reserve the right to change the contents of this site, including these Terms of Use. Your use of the site following such changes constitutes your acceptance of these changes.
Entire Agreement
The Terms of Use, together with those incorporated herein or referred to herein constitute the entire agreement between us, relating to the subject matter hereof and supersede any prior understandings or agreements relating to the subject matter.
Our Details
MDT Services Ltd. is a company registered in England & Wales no. 06863063 and our address is Fox Hollow Farm, Pilch Lane, Singleborough, Buckinghamshire, MK17 0NX. Tel: 07769 255 371.